Find the Fun in Fall with Your Baby!
Fall + Your Baby = Fabulous Photo Op Fun! So get out there and partake in all that autumn has to offer your baby!
1. Visit a local pumpkin patch.
Nothing screams fall more than a pumpkin patch! Some of them feature hay rides, petting zoos, and even corn mazes — all activities your baby will adore! Find your local one here: pumpkinpatchesandmore.org and get out your camera!
2. Visit an apple orchard.
Your picking produce will provide many a puree for the long winter months! And all you have to do is put your baby in a bushel and you've got a seriously cute pic! Find your own local orchard here: pickyourown.org. 
3. Make fall-food with your pickings!
Think beyond pumpkin and apple pies and breads — think Pumpkin Waffles with Apples and Apple Cider Syrup or an Apple Pumpkin Galette! The house will smell incredible which also signals to your baby that something special is in the air! Of course you can also make fabulous pumpkin baby purees.
4. Visit the library to check out Autumn-inspired board books.
They've usually got a very decent selection on display and bonus — they're free!
5. Decorate the nursery!
But just a little bit…a wreath, a harvest sign, or even a message on the whiteboard in his nursery is sure to signal to your baby that fall is in the air!
6. Play in the leaves!
Talk about a sensory experience for your baby! There's something, well, magical about it for them. So don't let your baby miss out in that kind of full fall fun!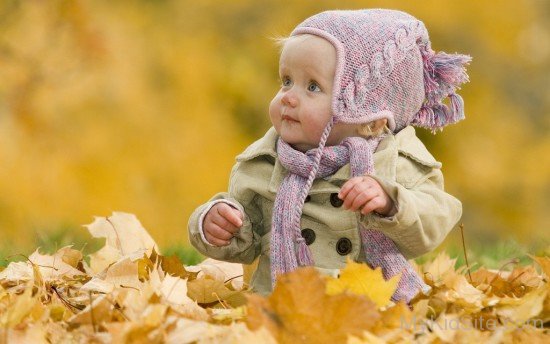 We're so thinking about y'all and your practically perfect babies this season —  and we're hoping your fall is totally and completely magical!
XO, PPB
Related Posts: Make the Holidays Magical, Survive & THRIVE Thanksgiving!