Building Your Baby's Storytime Library
Establishing a nightly routine for your baby will include creating a magical storytime!  We suggest you start when your baby is three weeks old — but really, you could start on night one if you're up to it!  Sit together in your nursery rocker and read away!  And it really doesn't even matter if you read at all — you can just talk about the pictures! Because it's all about making it a habit.
Your baby will really enjoy black and white board books once he can open his eyes and focus. But building his first library should include color too.  So we've compiled for you our top 15 favorite board books for your baby's first library…
1. Black and White Board Books:
Baby's World of Nature, Black on White

2. Corduroy, Don Freeman (not technically a board book, but a must-have nonetheless)
3. The Very Hungry Caterpillar, Eric Carle
4. Goodnight Moon, Margaret Wise Brown
5. Guess How Much I Love You?, Sam McBratney
6. Goodnight Gorrilla, Peggy Rathmann
7. Dr. Seuss Beginner Books (again, not technically board books, but classics to collect right away!)
Are You My Mother?, Because a Little Bug Went Kachoo!,  Oh, the Place You'll Go!

8. The World of Peter Rabbit, Beatrix Potter (extremely expensive, but worth every page!)
9. The Snowy Day, Ezra Jack Keats
10. The Runaway Bunny, Margaret Wise Brown
11. Winnie the Pooh Picket Fence Box Set, A.A. Milne
12. Boynton Books Greatest Hits Volume I, Sandra Boynton
13. Llama Llama Nighty Night Board Book, Anna Dewdney
14. My Growing-Up Library, Sesame Street
15. Pat the Bunny First Books for Baby, Dorothy Kunhardt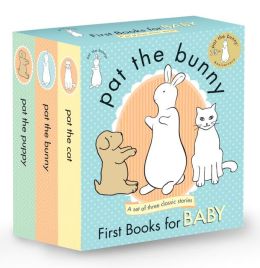 And for more on how to start making nighttime magical for your baby, read our post: Creating a Magical Bedtime Routine